Imagine a bacon-wrapped Ferrari. Still not better than our free technical reports.
We've said it before, and we'll say it again: Java redeploys are the hidden productivity killer.
Studies consistently show that the process of going from a code change to seeing that change averages around more than eight minutes – and this is repeated several times an hour. This adds up to about 20% of a developer's time that is spent waiting.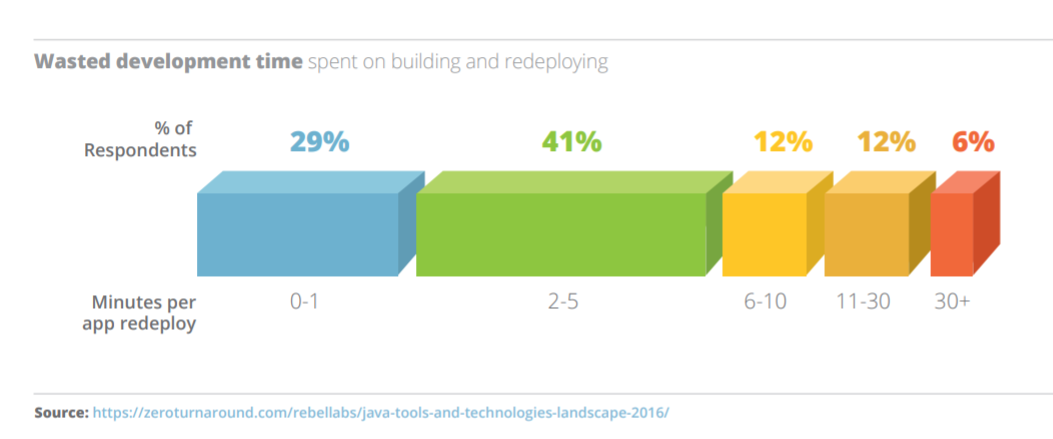 This fact has spawned a myth: waiting around for redeploys is just an unavoidable part of every Java developer's daily life.
Redeploys may be a major drain on productivity, but it's a myth that nothing can be done about them.
JRebel accelerates development
JRebel fast tracks Java application development by skipping the time-consuming build and redeploy steps. JRebel helps developers be more productive since they can view code changes in real time and maintain application state.
Unfortunately, there are now several myths surrounding JRebel. And in our latest eBook, we bust five of them with glee by walking you through five popular use cases for Java developers and demonstrating how JRebel can work in those environments to transform your development process for huge productivity gains and cleaner, better code.
Download the eBook, MythBusters: Five scenarios where JRebel helps developers create more, higher-quality Java code, to witness these five myths get thoroughly busted:
Spring Boot is "fast enough" without JRebel
Your IBM WebSphere and Oracle WebLogic applications are too mature for JRebel
JRebel doesn't integrate with SAP Hybris
JRebel doesn't work in complex environments and custom architectures
Remote development on virtual machines or cloud environments is too much for JRebel to handle
Gain an edge over the competition
We hope this eBook shows you how JRebel speeds up Java development across diverse environments. Read the evidence about why it works and take the next steps to seize finer control of your development velocity, so you can bring products to market faster and gain a vital edge over the competition.