Imagine a bacon-wrapped Ferrari. Still not better than our free technical reports.
NB! We've released a 2016 version of the Java Tools and Technologies Landscape.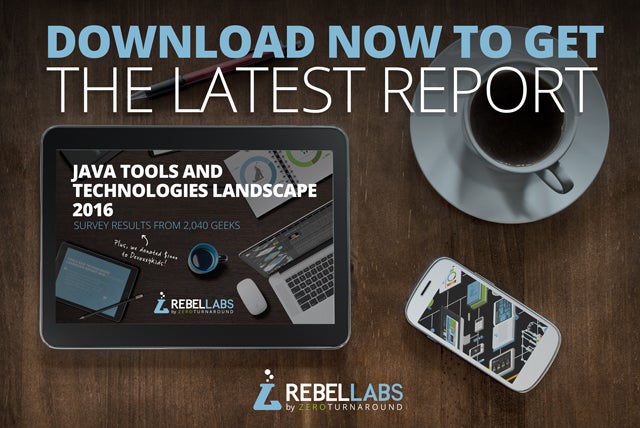 So if you're looking for the best Java tools you should really check the newer version of the report:

GET ME TO THE 2016 REPORT
---
A quick note
This survey rocked. A better-than-ever response rate, and each completed survey donated cash to charity. We love doing this. Did you know that this is the 5th anniversary of ZeroTurnaround's Java development research reports? Break out the champagne!
It actually started in 2009 with a survey about the speed of Java application server restarts, evolving over the years into a deeper look at the industry layout in our first research publication in 2012. In 2013, we tackled two particular challenges that really matter to productive software organizations: software quality (got bugs?) and the predictability of delivery (last week or next year?). We learned a lot from that one!
But now we feel like it's time to revisit the broader tools & technologies landscape in Java these days, collect some data, crunch some numbers and see what's going on in the market at large. And what better way than to just throw into your face a huge leaderboard of tools and technologies currently running the show as of May 2014… KA-CHOW!
N.B. Please take these findings at face value, and use at your own risk. The sampling error calculated by DSS is 2.1%, but since the sample is self-selected it is not truly random and can contain bias error that we cannot measure, though we do provide the audience data and it seems to be representative of the industry.
At 56 pages, it's quite a book. We suggest you download it and take it with you!

DOWNLOAD THE PDF
---
Checking in: What's going on in Java these days?
Since there is a very good chance you, dear reader, use one of these top technologies, let's look straight at top tools & technologies represented in each of the 14 categories we asked about.
As you can guess, in some categories multiple tools are often used in conjunction, so we allowed for multiple selections (denoted by *). For answers where a statistically significant portion (over 5%) of respondents selected "Do not use", the responses have been normalized (denoted by º) to exclude non-user groups.
It probably comes as no surprise that among the 2164 developers we surveyed, Java SE 7 (65%) is used by two-thirds of developers, but even more are using JUnit (82.5%), the most-used single technology across the entire Java landscape. And a good thing too: unit testing is key for making sure your app gets out the door. Next is Jenkins (70%), our favorite Lord of the Butlers, which is used by nearly 3 out of 4 developers that use Continuous Integration tools (1 in 5 does not). We've seen distributed VCS come a long way in recent years, and Git (69%) is now non-exclusively used by over two-thirds of developers – often alongside Subversion (57%).
Taking in the next set of tech leaders really completes the Enterprise Java picture – Hibernate (67.5%), Maven and Nexus (64%), Tomcat (50%) and Eclipse (48%) gives you more or less a decent foundation of a basic, no frills enterprise development stack.
But don't think the last words have been had yet…because in this report we asked a few questions that directly highlight the feelings of developers towards certain technologies.
The 2014 Leaderboard of Java Tools & Technologies
JUnit – 82.5%* – Top testing framework used by developers
Jenkins – 70%º – Most used CI server in the industry
Git – 69%* – #1 version control technology out there
Hibernate – 67.5%*/º – The top ORM framework used
Java 7 – 65% – The industry leader for SE development
Maven – 64% – Most used build tool in Java
Nexus – 64%º – The main repository used by developers
MongoDB – 56%º – The NoSQL technology of choice
FindBugs – 55%*/º – Most-used static code analysis tool in Java
Tomcat – 50%º – The most popular application server on the market
Java EE 6 – 49%º – Found in the most enterprise Java environments
Eclipse – 48% – The IDE used more than any other
Spring MVC – 40%*/º – The most commonly used web framework
MySQL – 32%º – The most popular SQL technology
---
What technologies are developers really interested in?
We asked which other JVM language they would be most interested in learning about (Scala – 47%), what IDE they'd rather use (IntelliJ IDEA Ultimate – 49%) and build tool they'd like to learn about (Gradle – 58%).
Java 8 is expected to be the #1 priority of 35% of respondents' companies over the next 2 years. Interestingly, responses regarding IDEs – one of the most used developer tools out there – betray the open-source nature of this tool group by clearly preferring the commercial version of IntelliJ IDEA.
Basically, there are great indications that these next 4 technologies have already become a force to be reckoned with (more on this later).
---
DOWNLOAD THE PDF