Imagine a bacon-wrapped Ferrari. Still not better than our free technical reports.
IDEs
As a developer tools vendor, one of our major challenges today is overcoming a common misconception that IDEs are bloated and packed with ridiculous features that creative developers should only use when dealing with large projects full of legacy code. Contrary to that, we believe that smart tools enable creative work with any project, no matter how big or small it is, be it a fresh startup or something that's been in development for a long time.
– Max Shafirov, CEO of JetBrains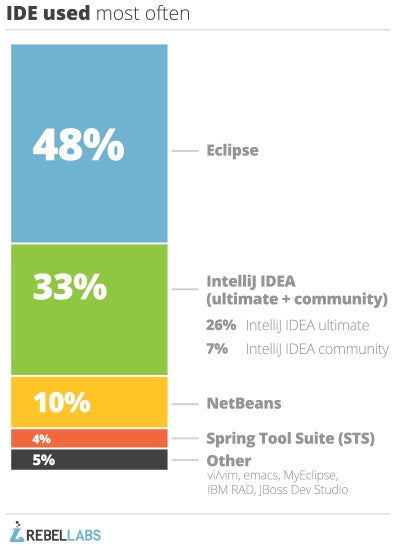 In last year's Developer Productivity Report 2013, 97% of respondents reported using IDEs (and 3% don't…really, WAT?), which makes the IDE market quite representative of development environments. This is a very mature market, with a strong commercial presence following the leading open source option, something that we could consider a reasonable indicator of market maturity.
So we aren't surprised at Eclipse (48%) retaining the dominant market position, which has been incredibly stable over the years – last time we asked, over two-thirds of developers used Eclipse on at least some projects; however, in 2012 the survey choices were non-exclusive, indicating that at least some developers use multiple IDEs. Eclipse's market dominance increases if you combine the other tools out there that are based on the Eclipse platform as a different distribution – e.g. Spring Tool Suite (STS), MyEclipse, IBM RAD and JBoss Developer Studio – then we can add another 7% to the score, coming in with over half the IDE market (55%) for Eclipse.
IntelliJ IDEA (33%) continues to make gains, with their Ultimate (26%) and Community editions (7%) representing the flagship JetBrains product. After years of anecdotal evidence, we also took the opportunity to ask "which IDE would you rather use or test for development?", listing all the same IDEs as in the previous question.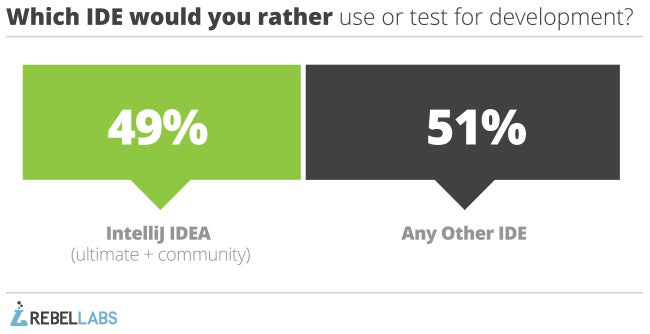 Interestingly, between Ultimate and Community editions, IntelliJ IDEA is preferred by nearly half of respondents (49%), compared to "any other IDE". Commercial tool makers, you can take this as good news if you operate in a space dominated by open-source alternatives.
NetBeans (10%) maintains a stable 3rd-place as in previous years, despite the fact that releases since version 7.2 have received generally positive feedback and the recent NetBeans 8 shipped as Java 8-ready. Whether a small, stable market share for NetBeans is a strategic goal of Oracle or not, we hope that any business' preference for commercial products over open source wouldn't influence the level of support/promotion for a product in question.
Finally, for the first time, we saw Spring Tool Suite (STS) appear on the radar with 4%, displacing MyEclipse and IBM RAD in 4th place in the 2012 report.
For further reading, we recommend How to Get Started with IntelliJ IDEA as an Eclipse User and Using Eclipse for Java development.
---
DOWNLOAD THE PDF